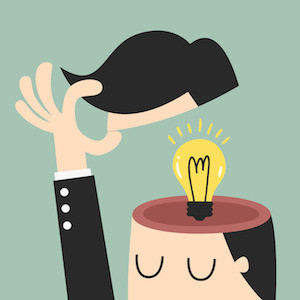 As head of marketing for a tech company, I once had a CEO who combined an unshakeable belief in the power of marketing with an ungovernable aversion to paying for it. Many are the times I had talked him round to, for instance, finally replacing the exhibition stand that was falling apart, only to watch his hand hover over the chequebook, sweat break out on his brow, and the hand move on, not having writ.
Here was your classic stressful marketing role: high expectation matched with zero resources.
Luckily, however he was a great speaker. And on Sundays, when the rest of his staff were out mountain biking or barbecuing or inventing start-ups to compete with his company, he liked to write white papers.
So I gave up on running a marketing department and became a speaker bureau instead. I made sure he was out there giving as many talks as we could book him for (which made the sales people happy because it gave him less time in the office, querying their expenses). We became a publisher of regular white papers. Blogs came along and he took to them like a duck to water. Our web traffic soared. Our email list burgeoned.
Now when we went to exhibitions, other marketing managers didn't come over to laugh at the state of my stand, they came to compliment me on – and pick my brains about – what they called our Thought Leadership programme.
It sounded a pretentious, hyped up phrase to me, but I ran with it.
On the back of our Thought Leadership Programme we built a brand that became acknowledged as the market leader – and not just in revenue terms. Needless to say, that CEO doesn't run the company any more. He sold it and is now a full time thought leader.
So you might say I got into thought leadership by a happy accident. Only it wasn't an accident.
Not all companies need thought leadership
Not all companies can do Thought Leadership (though it doesn't stop them trying). I'd go one step further – at the risk of sounding like a content marketing heretic – and say not all companies need it.
In the example I described above, it was a big success because of the market conditions that company faced – emerging market, B2B, service-based offering, relatively high-ticket sale, etc. Not all companies will have the same set of drivers.
If you're a component supplier to the car industry, for instance, with one big customer who you're vertically integrated with, it's unlikely you'll need Thought Leadership. However there are large areas of modern business where it has value, and certain sectors where if you don't do it to some degree, you're toast.
It's a broad subject area, but for the sake of keeping things brief and useful, I'd like to offer five indicators that your business might need to look seriously at a Thought Leadership strategy.
You need thought leadership when:
1. You're in an emerging marketspace
Emerging markets are typically fragmented and chaotic, with no dominant players. They lack established taxonomy and terminology, they lack analyst oversight. This makes things incredibly difficult for buyers who have to weigh up competing supplier propositions – and for the suppliers as well, who have no accepted context of expectation around which to differentiate their products and service offering.
This analysis vacuum provides an opportunity for any company that can provide a map of the marketspace acceptable to all parties, accurately identify the key challenges for buyers in that space and provide possible solutions – a useful job for a thought leadership programme.
2. Customers find it difficult to understand your products/services
A whole slew of traditional industries are transitioning to digital, and often this gives rise to disruptive technologies that change the landscape of those industries and call for new perspectives and understandings. Again, these changes are often under-documented in trade media. No-one  has greater knowledge about how to deploy these new technologies than the people who build them – i.e. you, the technology supplier. The vacuum of knowledge is yours to fill.
3. It's hard to differentiate
Look around at your competitors' websites: are they saying exactly the same things as yours? If you're in a market where it's hard to differentiate on features, and differentiating on price would hurt your margins (this especially applies to many service-based, B2B companies) there's no better way to build an aura of uniqueness around your brand and demonstrate the superior quality of thinking that goes into service design and delivery at your company than through thought leadership.
4. You have an uneducated buyer
'Yeah, but that's what the client wanted' is too easy a get-out for a failed solution. However it's often unavoidable where the buyer doesn't know enough about what they are buying to specify their needs properly. Consultancy has a role here, obviously, but so does thought leadership.
Away from the often pressured account management situation, where suppliers might have difficulty pointing out to the person with the chequebook that their ignorance is leading them into a costly mistake, thought leadership provides a way of educating clients to be better buyers. Better buyers have successes, and so get internal credibility to buy more from you, and they also tend to stay loyal to the people they learned from.
More generally, educating your market also gives you the chance to shape and influence opinions in favour of your solutions, where there is a technical debate within an industry over competing standards or methodologies.
5. You need to get up the food chain
Innovative tech solutions are typically specified and bought within companies at too low a level of seniority for the strategic impact they can have on those company's businesses. This has a number of effects. Buyers run into turf wars they can't win, and companies fail to exploit the full potential value of new innovations in terms of efficiency or competitive advantage. Thought leadership programmes can be a great way of giving your decision-maker ammunition to influence their strategic leaders, or to open a dialogue with that layer yourself.
I've talked about the 'why' here, but there is an awful lot more to say about the 'how' in all these cases – ways in which we've worked with clients to use thought leadership in tackling these challenges. However, that will have to wait for another post!